'Baba' Was Always Beating The Woman Openly And ...
New Delhi: Lord Bhole Shankar's town was crowded under a tree in Chaubapur village, Sarnath, Varanasi. In a black suit a Baba tied up a woman. Some men were also doing some strange acts and Baba was killing everyone with a stick. But as soon as three people came and stayed there, Baba suddenly began to beat himself and ran away from there. Do not panic, do not exploit any woman here, but Bhojpuri movie 'Damru'
Bhojpuri films superstar Khesarilal Yadav, Awadhesh Mishra, Rohit Singh Matru and Anand Mohan Pandey were present in the shoot. Director of the film Rajneesh Mishra said that while this scene is an important part of the film, there is also a message for the common people that they do not fall in things such as superstitions, ghost ghosts, witchcraft.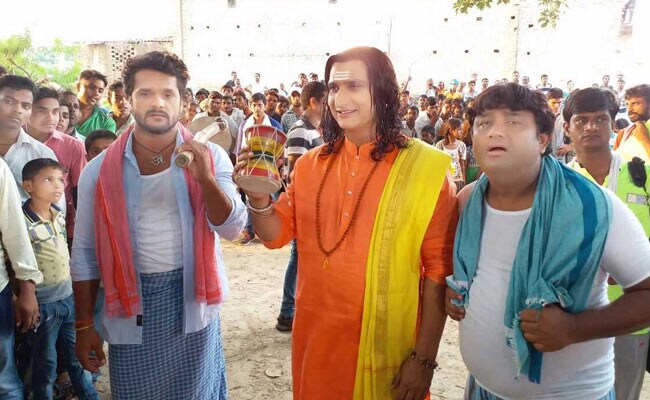 The film's producer Pradeep Sharma said that this film is inspired by the story of Mithila's unique Shiva devotee, scholar Vidyapati and his move to take Shiva on earth. This film is being filmed in a modern way. He said that it will happen for the first time in Bhojpuri cinema, when there is a film on this concept. Our concept is exactly like Prakash Jha's film 'Politics'. It was somewhere in the Mahabharata inspired film, which was filmed with the current situation. That's the story of our film too. There are also many messages.
Pradeep Sharma said that through this film, people of two languages of Bihar will be connected. Our purpose is to take all those people of Bhojpuri cinema, especially among women who are from Bhojpuri films. Our aim is not only to make money from this film, but to bring the Bhojpuria audience in the cinema inside the cinemas. Bhojpuri films who are still critically watching without sitting at home.
'Baba' Was Always Beating The Woman Openly And ...
Reviewed by
Ankur Lad
on
September 17, 2017
Rating: